A lot of things have been happening around our house. Our back yard project is pretty much done and I've redone my stitching/sewing/office/reading room. I'll have some pics of these pretty soon. This afternoon I'm working on a Quiet Book for Leo so I thought I'd post my progress.
A friend loaned me this Activity Book pattern by Country Creations and I'm using it as a starting point. This pattern is copyright 1991 but I believe it's still available.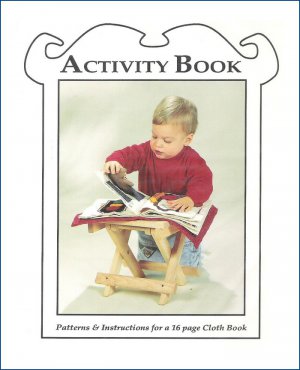 I'm using some of the pages from this pattern and making up other pages based on inspiration from Pinterest. There are quite a few boards focusing on quiet books and I picked up tons of ideas and posted them on my own board. Click here to see my
"Quiet Book Ideas"
on Pinterest.
These pages are from the Country Creations pattern:
Counting Page - the symbols come on and off with velcro.
Match the Shape - the shapes also fasten on with velcro and the shape of each outline is stitched on the page.
Clock Page - the hands move. The only problem with this page is that the hands sometime catch on the fuzz of the felt. But I think it will be okay.
The fruit for this basket page was taken from the Country Creations pattern, but I made up the basket as I went along. The fruit is loose to come out of the basket and be put back in.
This page has been the most fun so far. I went to a thrift store and bought a 0-3mo pair of overalls and cut them down to fit the page. I cut out a t-shirt shape from an old red t-shirt, machine appliqued it to the page, then sewed the overalls on top. The straps snap and unsnap and there is a little pocket that I hid a tiny treasure in.
My quiet book will have 16 pages total. I'll post more as I go. Thanks for looking!
Happy stitching,
Sherri